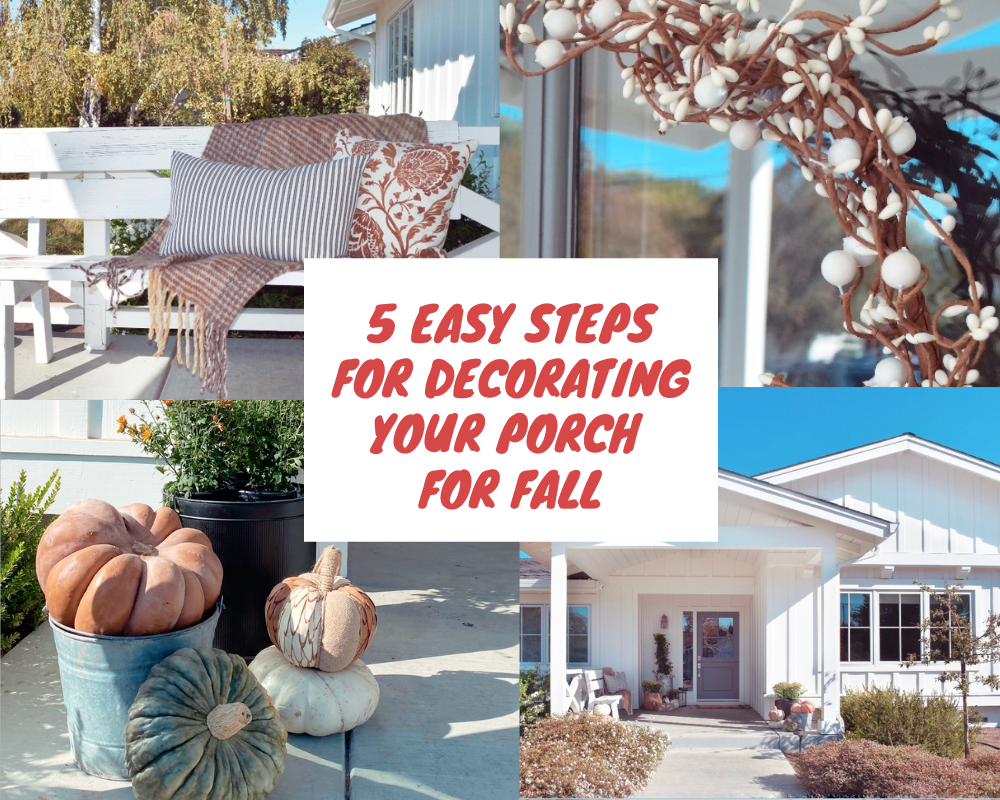 A beautifully decorated front porch can add joy to your everyday life and it's simple to do. See 5 easy steps for decorating your porch for Fall. Now that the Halloween decorations have come down and the Holidays are still a couple of months away there is no better time to inject some welcoming Fall touches to your porch. Have you noticed that front porches have a tendency to become neglected spaces of our homes particularly as we head into Fall? The once thriving baskets of hanging flowers from the Summer are now wilted. And as the nights get cooler and the days get shorter our focus naturally turns more to the inside of our homes. When you consider that your front porch is the first and the last thing you and your visitors see each and every time they arrive or leave your home, the benefit of creating an area that sparks a little joy and gives reason for pause, is HUGE!. Make that first impression and last impression a positive one and create a desirable Fall porch with these 5 easy steps. You never know, your porch might become your favorite place from which to strike up a conversation with your neighbors and friends.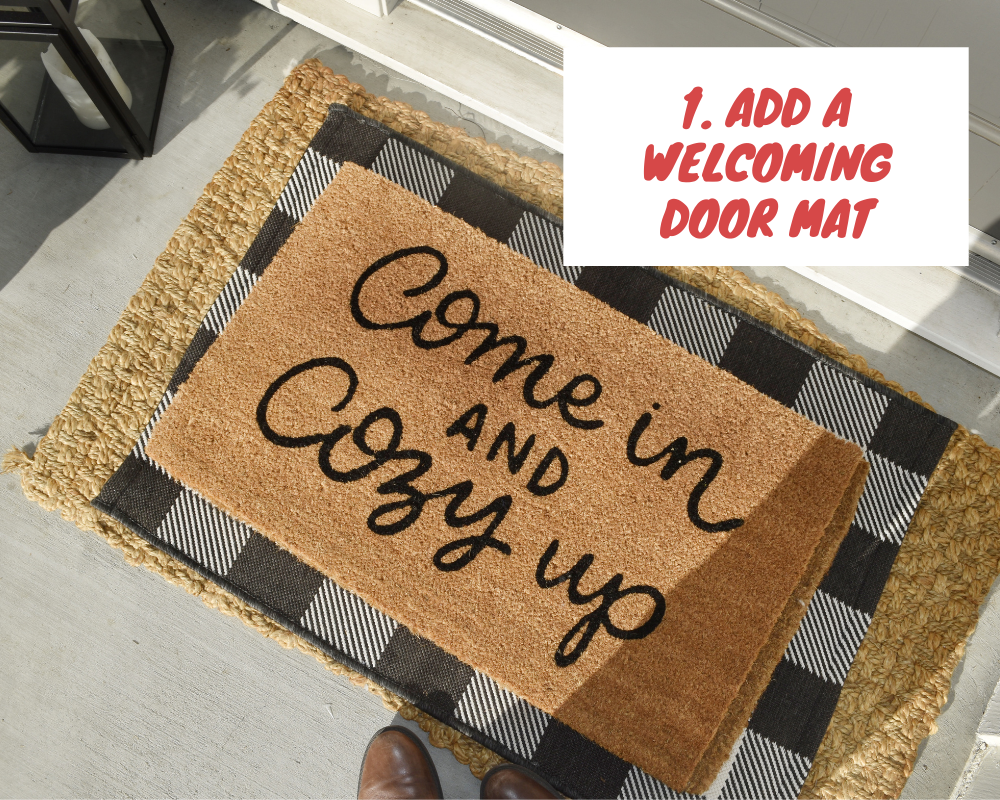 Door mats have come a long way in the last few years and thankfully there are plenty of options to choose from. There are mats with typographic messages that help set the tone of your house, plain mats, multicolored and patterned mats and everything in-between. For a relatively low cost, your door mat can make a big impact. It doesn't really matter what style you choose, as long as it make you happy. Mats with positive messages or colorful patterns go a long way in adding cheer this time to year. UPDATE YOUR LOOK BY LAYERING MATS  For a fresh and modern way to update your look of your entry and add some personality try layering a couple of door mats on top of each other.  In this case we layered a typographic sisal mat on top of a plaid mat. It not only adds dimension, it expands to overall visual size of the mat. And what's more welcoming than the invitation to "Come in and Cozy up"?.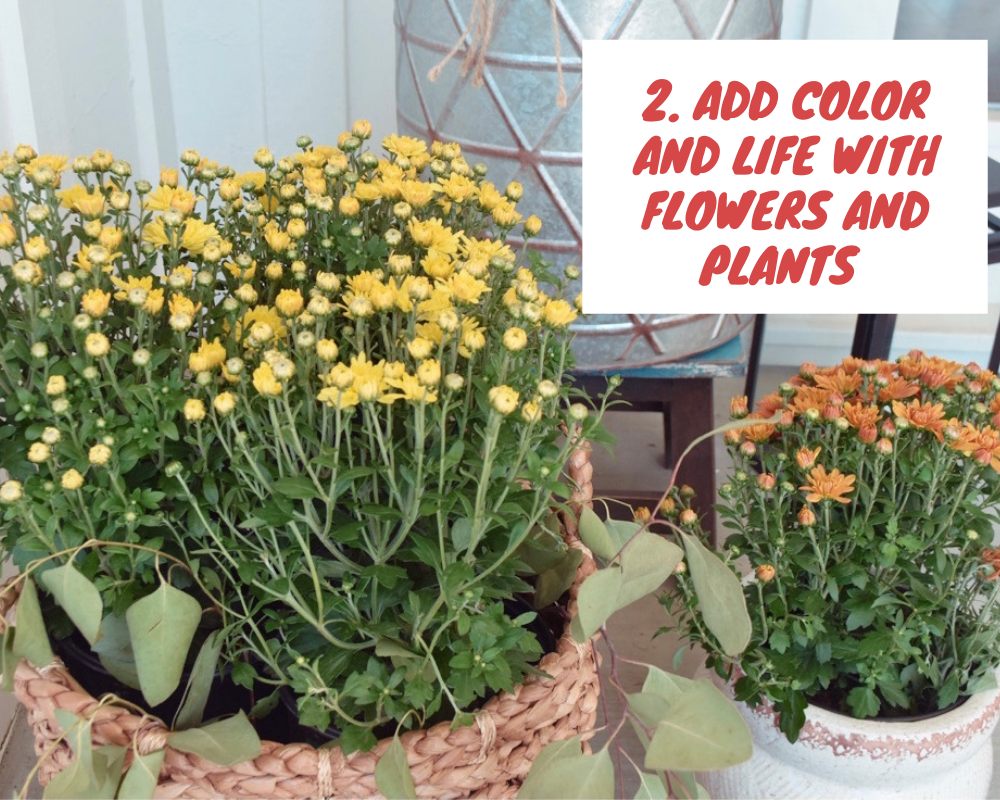 Every room in a home should have something living in it and the front porch is no exception.  Yellow, orange and white flowering plants like Mums are a great option for Fall. Not only are they simple to care for, their bright colors are uplifting and coordinate with all the other natural elements of the season. PLANTERS OF DIFFERENT HEIGHTS AND MATERIALS HELP CREATE INTEREST Once you have selected your plants, it is important to carefully consider the planters you will be putting them in. To create a formal look, a pair of matching planters works well. If however, you are want to create a more relaxed, inviting look choose different planters of varying heights and materials. Have you got existing planters you want to use but they are all similar sizes? An easy fix to add height is to prop the planters up on a small stool or crate. In choosing planters for this modern ranch-style home we mixed a galvanized metal planter with natural woven planter and stone planter - all of varying heights. The raw/rustic quality and similar natural burnt orange tones on each helped add interest yet visually tie them together.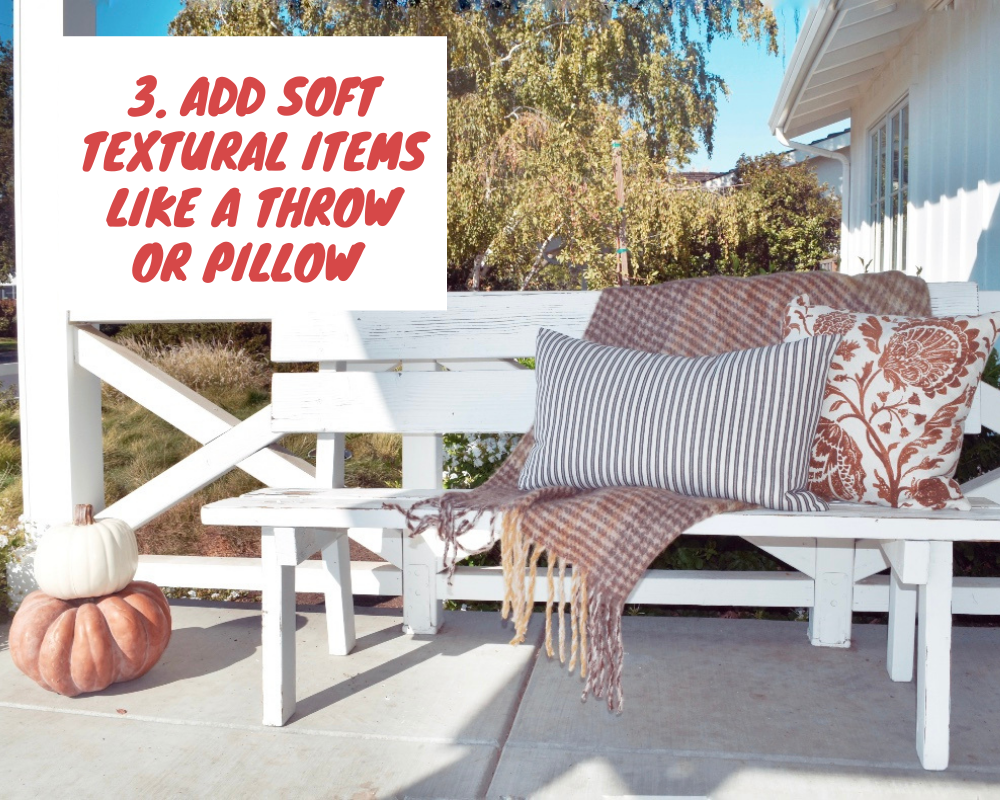 Adding a little element of 'cozy' to your porch is essential for Fall.  This can easily be achieved by incorporating a throw or pillow on a bench seat or chair. THROWS AND PILLOWS ADD COMFORT TO A BENCH Not only will these textural items help to create an inviting atmosphere, they will make the porch a more comfortable place to spend time on. Yes, you will be grateful for that throw when you are outside chatting to your neighbors.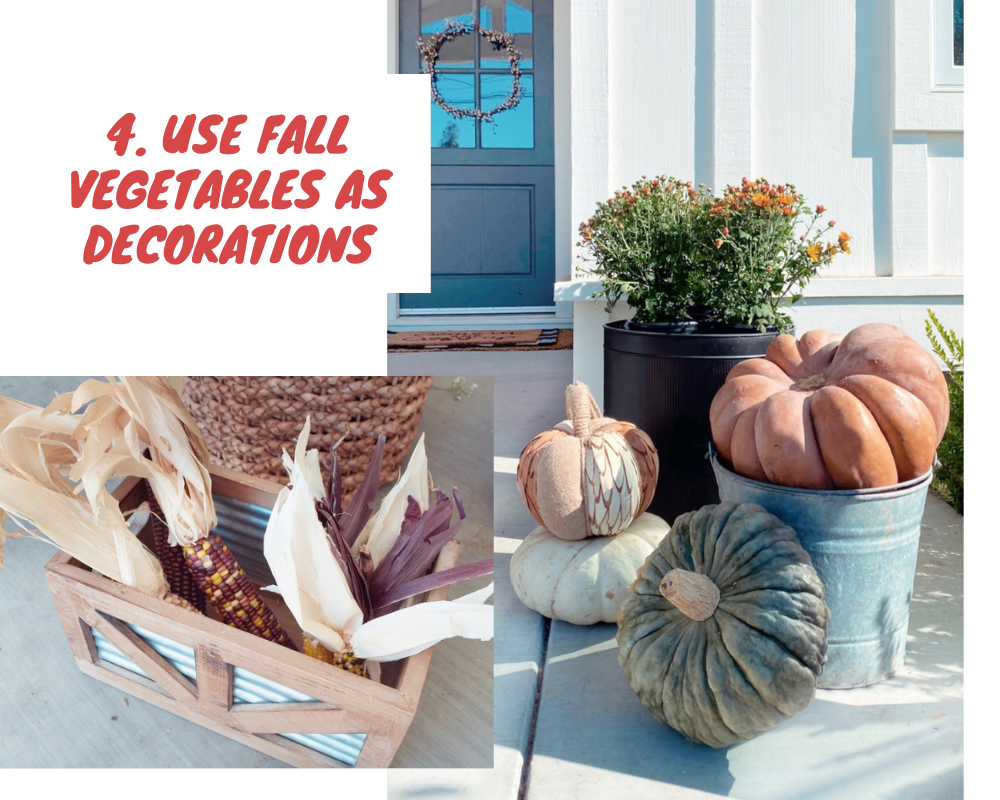 Is there anything that says Fall more than pumpkins, corn, bales of hay and wheat?.  Consider using some of these naturally occurring seasonal vegetables for decorative purposes. In today's supermarkets and farm stands we are fortunate to have a huge variety of pumpkins to choose. From the standard bright orange carving pumpkins to oversized freakish ones. Mix different shapes and sizes, real and faux ones and think of new ways to display them. TRY STACKING AND LEANING PUMPKINS TO CREATE VISUAL INTEREST Stacking a few on top of each is a great way vary the height of your display. You can also display them in planters and vessels or simply prop them up on different angles. Get creative and have fun!.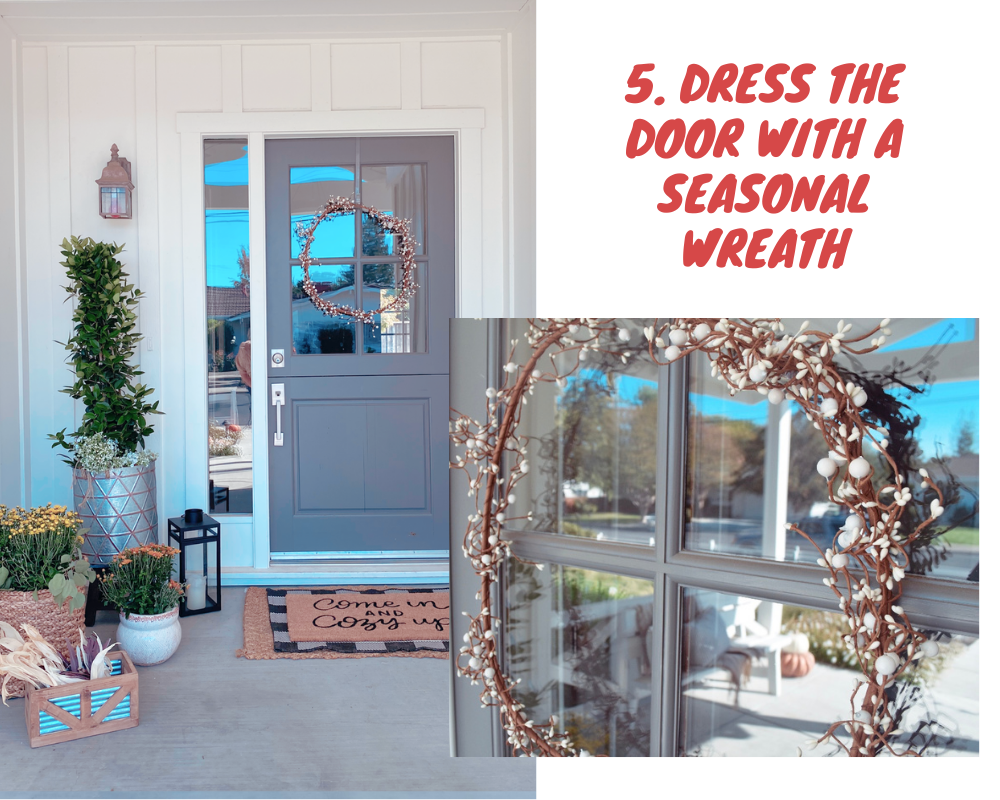 The finishing touch to your Fall porch is a decorative wreath.  You can keep it simple or go bold with one adorned in bright colored leaves, wheat or decorative pumpkins. DECIDE IF YOU WANT YOUR WREATH TO STAND OUT OR COORDINATE WITH FRONT DOOR COLOR The key thing to consider is your front door color and how much you want the wreath to stand out from the door. We hope you found these tips useful in helping you create a welcoming front porch for Fall.  Your own little sanctuary that gives you reason to pause as you leave and enter your home. And a place you will enjoy everyday through Thanksgiving to early December at which time you will most likely want to add some holiday touches.