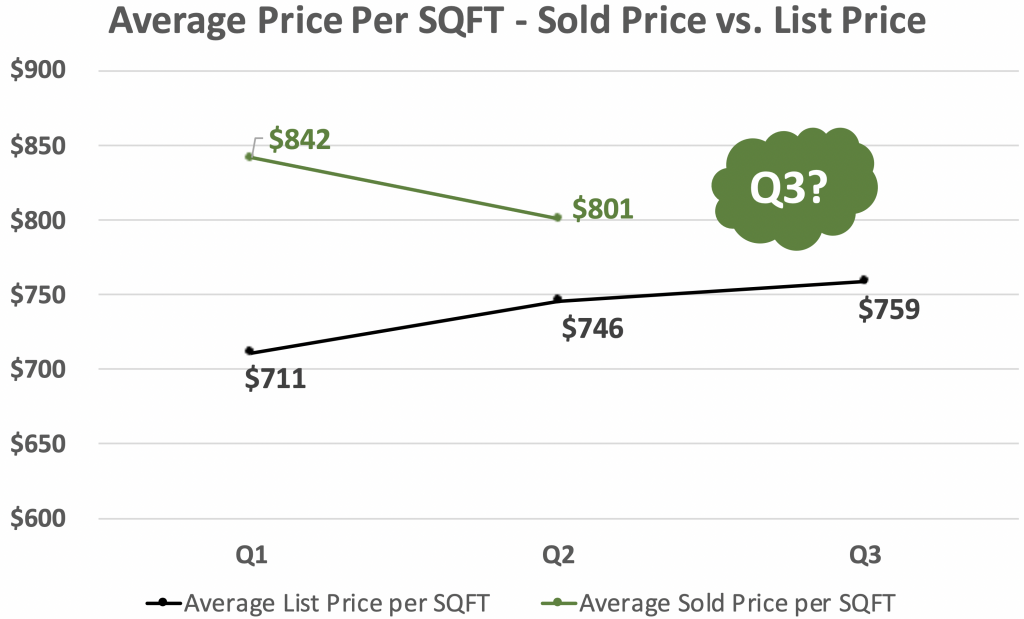 Northgate sales data from the first two quarters helps explain what happened in the earlier part of the year.  The red hot Seller's market, driven by low interest rates and remote work opportunities, came to an end in March of 2022 as interest rates started to creep up.
81 Northgate homes were sold in the first half of this year, 40% fewer than the first half of 2021.  The average sale price exceeded $2M in the first quarter, but have since started to decline.

Where are we headed in Q3?  With only four transactions having closed so far this quarter it's too soon to say.  But we can see from the graph above that list prices for the 18 homes listed so far in Q3 are continuing to increase despite the fact that sale prices are declining.
We attribute this to the (understandable!) reluctance of home sellers to adjust expectations according to current market reality.  March does not seem that long ago, but we are clearly now in a different market.  Days on market as well as price reductions have both increased through the summer.
But now Labor Day is past and Fall is a chance to reset expectations to match the demand of a fresh batch of buyers.  Demand for Northgate homes has always been high and this Fall we hope will be no different.  Stay tuned here for latest data from our new Fall listings!